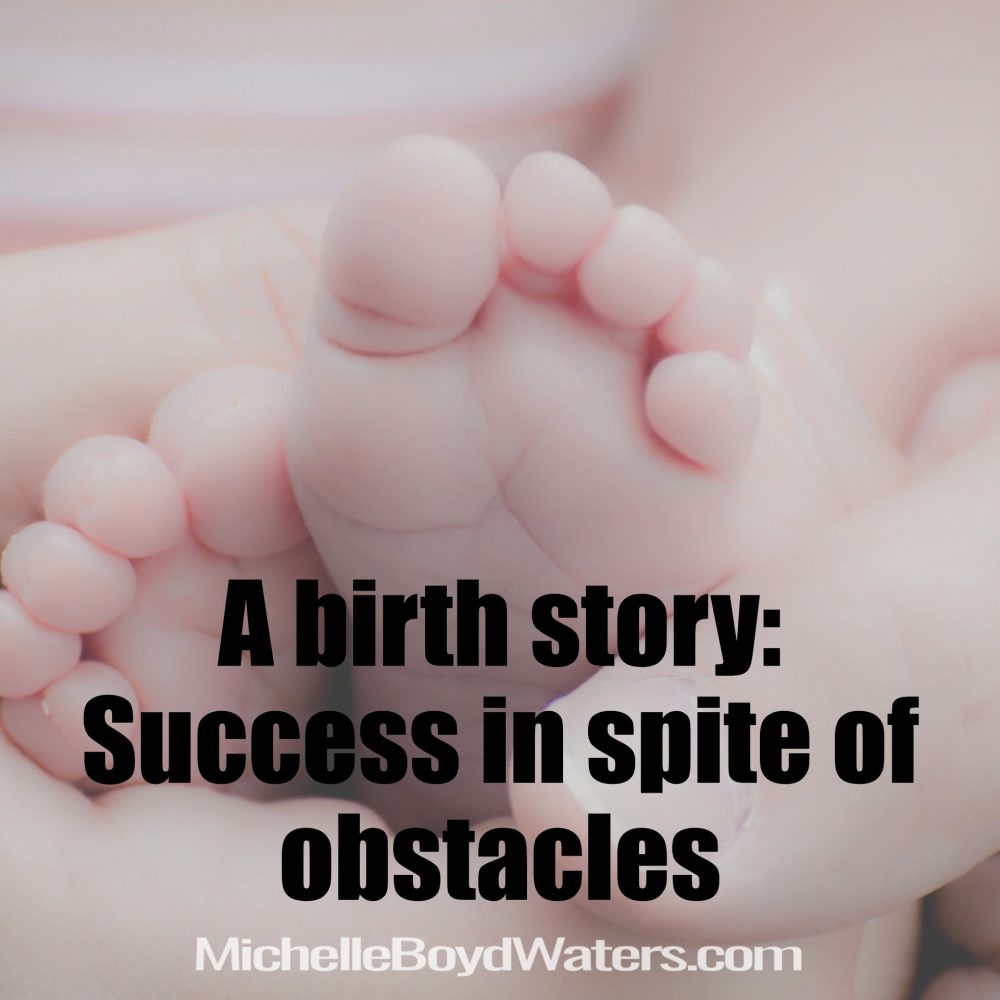 My baby will be eight months old in five days, so I thought I'd share my birth story. OK, so that's not a standard anniversary, but what the heck.
Before I jump in though, I'd like to say that if you're in any way squeamish about human bodily functions, don't read this!
Also, I had a cesarean section with my son, CW, three years earlier and was told at that time that I was too small to have a baby vaginally. I decided I did not believe the OB and opted to try a Vaginal Birth After C-Section (VBAC) with this delivery.
And third, this is a loooong story, so go get yourself a glass of water and something to snack on…
Birth Story
…as written by my doula
April 26, 2003
2:15 a.m. Michelle calls Ottie, her doula, telling her that her water broke about ½ hour ago. She has a call in to the midwife. She hopes to stay home until labor has had a good start.

4:00 a.m. Steve calls. The contractions are 5 minutes apart and lasting about 45 seconds. The midwife said to come in whenever they're ready.

5:00 a.m. Steve calls me from the car! They're on their way to the hospital. The contractions are 2-3 minutes apart. Ottie says she'll be at the hospital in 45 minutes.

5:45 a.m. Ottie arrives at the hospital, finding Michelle on her knees leaning over the birth ball. Water is filling the tub. Steve is rubbing her back through a contraction. The nurse has checked her and she's dialated to a 7-8!

6:00 a.m. Michelle decides not to get in the tub and goes to the bed, taking Steve along to keep rubbing her back. Ottie suggests she get back to the kneeling position on the ball. Michelle is facing towards the end of the bed and Ottie is bracing the ball, helping her verbally through each contraction.

6:30 a.m. Pauline, the nurse midwife, has arrived. Her vaginal exam shows Michelle is completely dialated except for a rim in the front. The station is +1.

7:00 a.m. Completely dialated and Michelle may push when she feels the urge. She begins pushing, still leaning over the ball.

8:00 a.m. Time for another position to help this baby come down. Michelle gets in a sitting position and plays "tug of war" with Steve during the contractions. Her feet are on the birth bar and she and Steve pull on opposite ends of a sheet during the contractions. Steve says Michelle sure is powerful!

8:30 a.m. Another exam by Pauline reveals the baby is occiput posterior, meaning facing the wrong direction, and is having difficulty slipping under the pubic arch. She asks Michelle to lie down on her right side and not push during contractions to give the baby room to turn. Michelle learns that not pushing when the body's urge is so strong, is a very difficult feat. Ottie has her put her head up and say the word "puff" repeatedly.

9:15 a.m. We've been talking to that little expected boy to turn himself so he's looking at his mother's back, but he hasn't been listening. Pauline suggests an epidural to further relax Michelle's pelvis and Michelle is ready for it. IV fluid is started.

10:00 a.m. The epidural is in place and soon Michelle is feeling relief. Steve finally gets relief, too, from rubbing Michelle's back through each contraction and then helping her with the pushing efforts, especially the tug of war.

10:20 a.m. The baby's heart tones decrease for 5 minutes. Michelle is turned to her right side and receives oxygen by mask; the heart tones go back up. Pauline is concerned, besides the heart tones having dipped, that the baby isn't going to turn and that a cesarean section may be in order. Michelle knows she has done everything possible on her side to bring this baby vaginally, understand why the cesarean may be necessary and she and Steve are in agreement for a cesarean. Ottie reminds her that having brought the baby through labor and pushing, he is more ready to adapt, especially with his breathing, to the outside world.

10:45 a.m. Dr. Coleman, the OB physician on call, has arrived and after his vaginal exam, he says he believes he can turn the baby with forceps and have a vaginal birth. He tells Michelle and Steve the side effects that may occur. Michelle has zeroed in on one: The possibility of skull facture.

She asks a few straight-forward questions: "How many forcep births have you done?" Answer: "Around a thousand."
Question: "How many skull fractures have you had?"
Answer: "None"
She asks Pauline: "What do you think?"
Pauline said she has full confidence in Dr. Coleman's abilities.
Response: "OK, go ahead and turn this baby!"

11:01 a.m. Pauline assists with the birth of the baby after Dr. Coleman has brought him to the crowning position with the forcepts. After he's on mom's tummy a few seconds to get dried off, he's taken to the warmer. A few minutes later, Ottie tells Steve to come over to the warmer for a surprise.

Once Steve looks closely at his new baby, he hollers over to Michelle, "It's a girl!" Steve and Michelle quickly announce their baby's name, Aimee Marie. No wonder Aimee wouldn't turn. She knew we were calling her by the wrong name!

Pauline repairs Michelle's second degree tear while Steve adores his new daughter. She weighed in at 7 pounds 12 ounces, a pound more than her brother, Christopher. Her apgars were 7 and 9. She breastfeed like a champ for the first time, less than 30 minutes after she was born.

Aimee went home with her family in a couple of days.